Smart, Connected, and Coordinated Maternal Care for Underserved Communities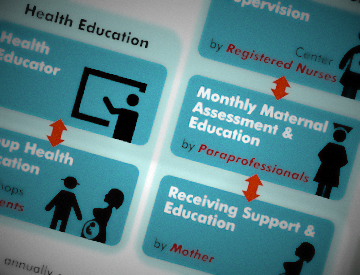 UNITE (UNderserved communITiEs) presents a community engagement model that is smart, deploying ubiquitous monitoring and lifelogging; connected, bringing together a diverse cast of community members including mothers, families, care providers, and outreach resources; and coordinated, using technology to proactively reach out to the community and use personalized intervention and education for improved self-management by the women. The UNITE project champions a model that is scalable in size, portable across different ethnic communities, and promises improved outcomes through better self-management and community enhanced motivational factors. The UNITE project performs a controlled study using a community of underserved Orange County mothers together with non-profit agencies, hospitals, and local support organizations to evaluate the efficacy of this new community-enhanced self-management approach, and its impact on community building. The project builds larger communities of healthcare providers, insurance providers, and governmental agencies that can work in concert to enhance the well-being and lifestyles of mothers and families across a diverse spectrum of socio-economically disadvantaged groups. The UNITE project also trains the next generation of healthcare providers to deploy socio-economically relevant Internet-of-Things (IoT) technology in a cost-effective and user-friendly manner.
UNITE is funded through the National Science Foundation grant CNS-1831918 within the NSF Smart and Connected Communities (S&CC) program.
---
Research Partners:
MOMS Orange County
School of Nursing, University of California, Irvine, USA
School of Information and Computer Sciences, University of California, Irvine, USA
School of Education, University of California, Irvine, USA
School of Social Ecology, University of California, Irvine, USA
UCI Medical Center, Orange, CA, USA
St. Joseph's Hospital of Orange, CA, USA
Children & Families Commission of Orange County, CA, USA
Community Health Initiative of Orange County, CA, USA
Department of Future Technologies, University of Turku, Finland
Department of Nursing Science, University of Turku, Finland
Turku University Hospital, Finland
---